8 de nov de 2009
Postado por byanca jackson às 05:22
Em nossa última teoria sobre Michael Jackson ter um irmão gêmeo que afirmou que seria o nosso último post.
Well apparently we both had our Nostradamus pants on, because it was our last post…on MJHD.

Bem, aparentemente, nós dois tivemos nossas calças no Nostradamus, porque ele foi o nosso último post sobre ... MJHD.
We were banned from chat and from the forum, but that doesn't stop us to write more about our theories for those who are interested.

Fomos proibidos de chat e do fórum, mas isso não nos impede de escrever mais sobre nossas teorias para aqueles que estão interessados.
In our last blog you can read we think Michael has a twin brother, Mike.

Em nosso último blog que você pode ler que acho que Michael tem um irmão gêmeo, Mike.
Because we are unable to pull legal documents, we have to dig deeper into the performances and pictures that we can find on the internet.

Porque não somos capazes de puxar os documentos legais, temos que aprofundar as representações e imagens que podemos encontrar na internet.
Now I have 2 versions of the HIStory tour, Live in Auckland and Live in Bucharest.

Agora eu tenho 2 versões da turnê HIStory, Live in Auckland e Live, em Bucareste.
I have always thought they were different, but now we decided to watch more closely.

Eu sempre pensei que eles eram diferentes, mas agora decidimos assistir mais de perto.
First thing that caught our eye was that the Michael Jackson on the Bucharest performence had a ring on his right hand.

A primeira coisa que chamou nossa atenção foi que o Michael Jackson sobre o desempenho Bucareste tinha um anel em sua mão direita.
That would not be a strange thing, because he was married to Debbie Rowe during that time.

Isso não seria uma coisa estranha, porque ele foi casado com Debbie Rowe durante esse tempo.
But on the Auckland concert there is no ring… What also seems is that the MJ on the Bucharest concert has a rounder face and a wider nose.

Mas, no concerto de Auckland não há anel ... O que também parece é que o MJ no concerto Bucareste tem um rosto redondo e uma maior nariz.
Second and most weird part was the Billie Jean performance.

Segunda parte e mais estranho foi o desempenho de Billie Jean.
We always thought he wore his glove on the same hand.

Nós sempre pensamos que ele usava sua luva na mesma mão.
If we look at the legendary Motown 25 performance, he wears it on his left hand.

Se olharmos para a lendária Motown 25 desempenho, ele usa-lo em sua mão esquerda.
On the Bucharest concert, he wears it on his right hand… So we decided to watch all the Billie Jean live performances, here is what we found:

No concerto de Bucareste, ele usa-lo em sua mão direita ... Então decidimos assistir a todos os espectáculos Billie Jean ao vivo, aqui é o que nós encontramos:
Glove on the left hand:
Luva na mão esquerda:
MoTown 25

Motown 25
Dangerous Bremen

Bremen Dangerous
HIStory Helsinki

HIStory Helsínquia
HIStory Munich

HIStory Munique
HIStory Sweden

Histórico Suécia
Glove on the right hand:
Luva na mão direita:
Victory Tour

Victory Tour
BAD Yokohama

BAD Yokohama
Dangerous Tokyo

Tóquio Dangerous
Dangerous Munich

Munique Dangerous
Dangerous Bucharest

Bucareste Dangerous
Dangerous Koln

Koln Dangerous
HIStory Bucharest

A história de Bucareste
HIStory Kuala Lumpur

HIStory Kuala Lumpur
HIStory Auckland

HIStory Auckland
HIStory Seoel

HIStory Seoel
30th Anniversary NY

NY 30th Anniversary
Here are some video's and pictures so you can see for yourself:

Aqui estão alguns vídeos e fotos para que você possa ver por si mesmo:
The Legendary MoTown 25 - left han

d

The Motown Legendary 25 - han deixou

d
Algumas fotos: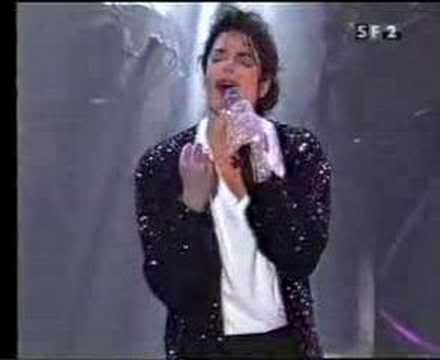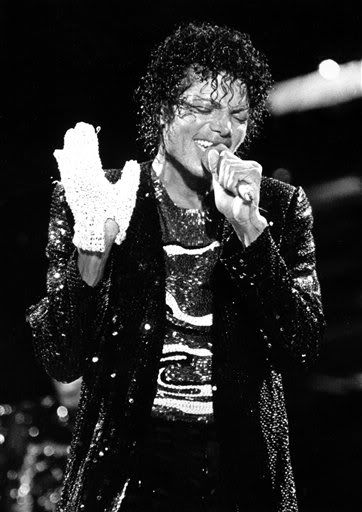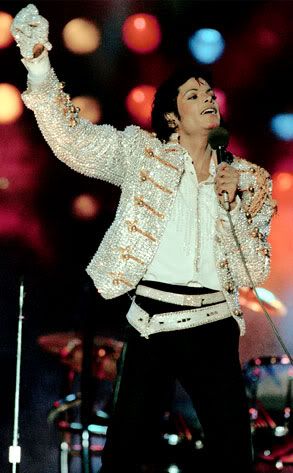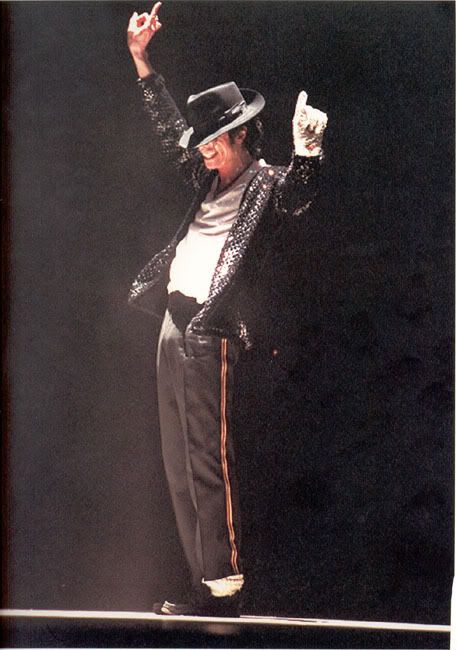 Now if we look at the This Is It poster, it looks like be are looking at MJ's back, so that means the glove is on the right hand here:

Agora, se olharmos para os This Is It cartaz, parece que a estão olhando para trás MJ, então isso significa que a luva está na mão direita aqui: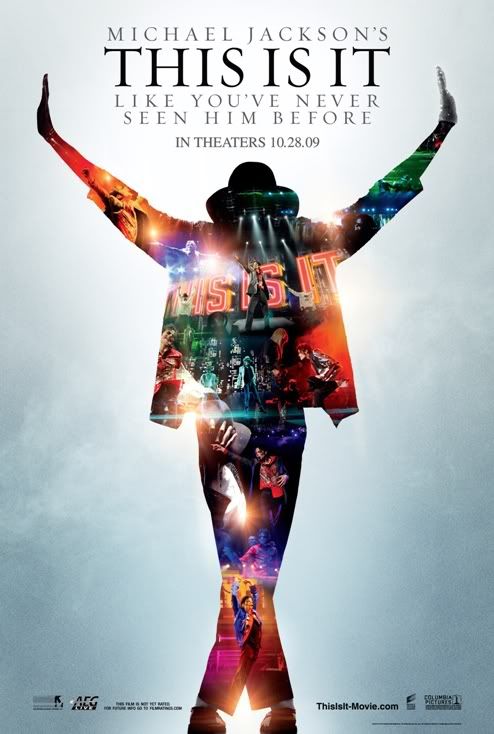 We assume it is MJ's back, but I think we can also make it his front, the way the silhouette is presented, so is the glove on both hands?

Assumimos que ele está de volta MJ, mas eu penso que nós podemos também fazê-lo diante dele, a forma como a silhueta é apresentado, assim é a luva em ambas as mãos?
Let me also remind you of the back of the album again, where it says: Always great to sing with my brother. Brother, why not brothers?

Deixe-me lembrá-lo da parte de trás do álbum novo, onde se diz: sempre muito bom cantar com meu irmão. Brother, por que não irmãos?

And what is with the added S in pains with Will you be there at the memorial?

E o que é adicionado com o S em dores com Você vai estar lá no memorial?
Well, enough said about that, let's see what else could support this theory.

Bem, disse o suficiente sobre isso, vamos ver o que mais poderia apoiar esta teoria.

We watched the memorial again.

Nós assistimos o memorial novamente.

A very interesting speech from Berry Gordy, we all already had agreed on that, but this part I didn't notice before:

Um discurso muito interessante de Berry Gordy, todos nós já havia concordado com isso, mas essa parte eu não tinha observado antes:
I must say that he's had 2 personality's.

Devo dizer que ele tinha 2 personalidade.

Off stage he was shy, softspoken and childlike.

Fora do palco era tímido, softspoken e infantil.

But when he took the stage in front of his screaming fans, he turned into another person.

Mas quando ele subiu ao palco na frente de seus fãs gritando, ele se transformou em outra pessoa.

A master, a take-no-prisoners showman.

Um mestre, um take-no-showman prisioneiros.

It was like kill or be killed, (giggles) I mean Michael was awesome, totally in charge.

Era como matar ou ser morto, (risos) Quero dizer Michael foi incrível, totalmente responsável.

In fact, the more I think and talk about Michael Jackson, I feel the King of Pop is not big enough for him.

Na verdade, quanto mais eu penso e falar sobre Michael Jackson, eu sinto o Rei do Pop não é grande o suficiente para ele.

I think he is simply......I think he is simple the greatest entertainer that ever lived.

Eu acho que ele é simplesmente ...... eu acho que ele é o maior artista simples que sempre viveu.
We always wondered why he had to giggle, but if this theory is true, this man MUST know the real deal and in that case it wouldn't be weird if he had to giggle about his words.

Nós sempre me perguntei por que havia de rir, mas se esta teoria é verdadeira, esse homem deve conhecer o negócio real e nesse caso não seria estranho se ele tivesse a rir sobre suas palavras.

Also see how he repeats himself at the end.

Também ver como ele se repete no final.
Another thing that seems interesting, the message from Rebbie in the Golden Memorial booklet.

Outra coisa que parece interessante, a mensagem de Rebbie no livreto Memorial de Ouro.

Well actually the picture behind it.

Bem, na verdade a imagem por trás dele.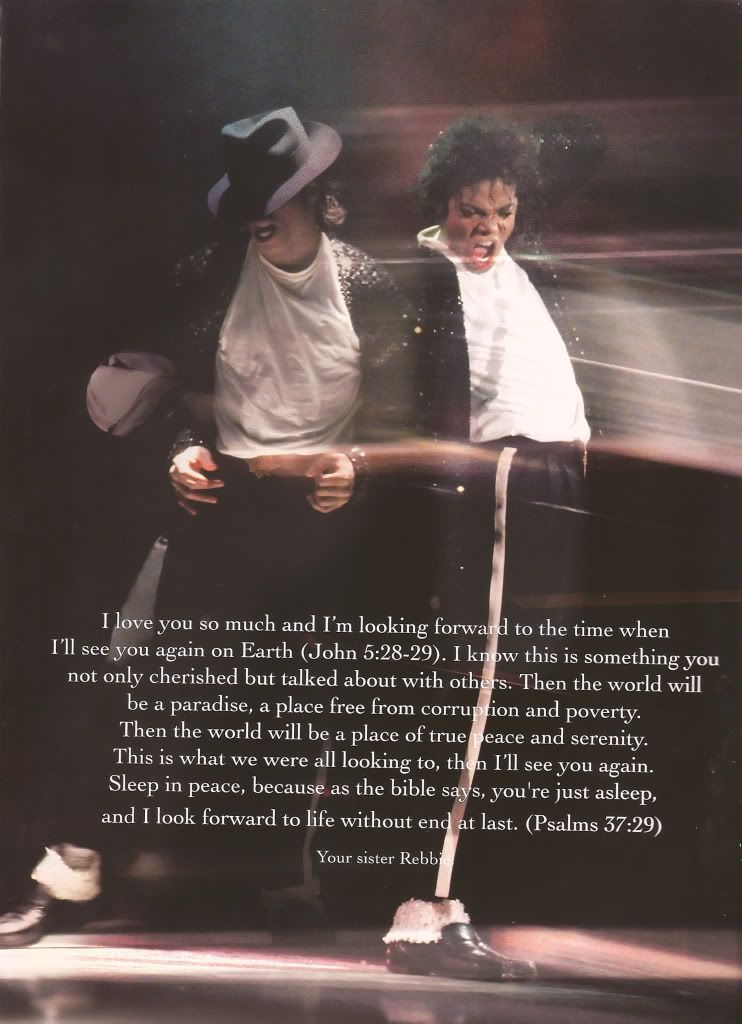 Another interesting picture is from MJ and Janet at the Legend Awards.

Outra imagem interessante é a de MJ e Janet nas concessões Legend.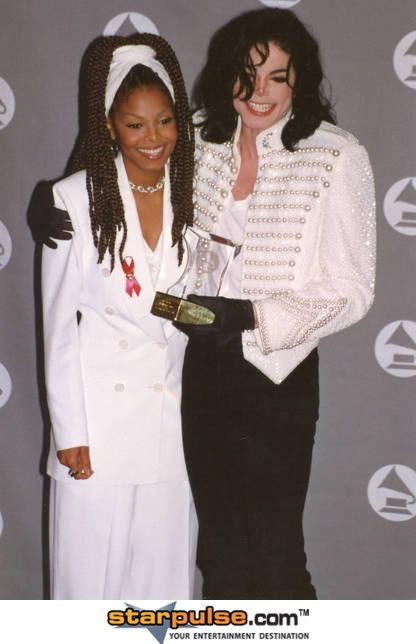 MJ is wearing 2 gloves, instead of one.

MJ está vestindo 2 luvas, em vez de um.

LaToya also claims he's buried in 2 gloves...

LaToya também afirma que ele está enterrado no 2 luvas ...

Why did we all wonder?

Por que nós toda a maravilha?

Well, maybe because this was a special award to them and the earned it both, but only one was able to pick it up.

Bem, talvez porque este foi um prêmio especial para eles e os ganhos que os dois, mas apenas um foi capaz de buscá-lo.

Maybe that's the reason for wearing 2 gloves.

Talvez essa seja a razão para usar 2 luvas.

As for the burial it could mean that the worked together as the King of Pop and he died, so they can live seperate lives.

Como para o enterro que poderia significar que o trabalho em conjunto, como o Rei do Pop e ele morreu, para que eles possam viver vidas separadas.
And we have more!

E temos mais!

Look at the pictures of the brothers both at the memorial as at the burial:

Olhe para as imagens dos irmãos, tanto no memorial como no enterro: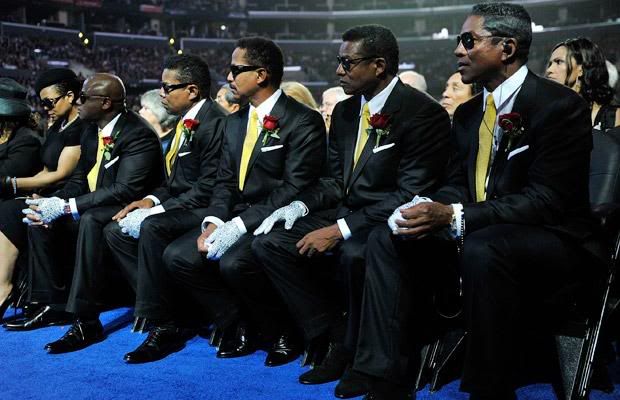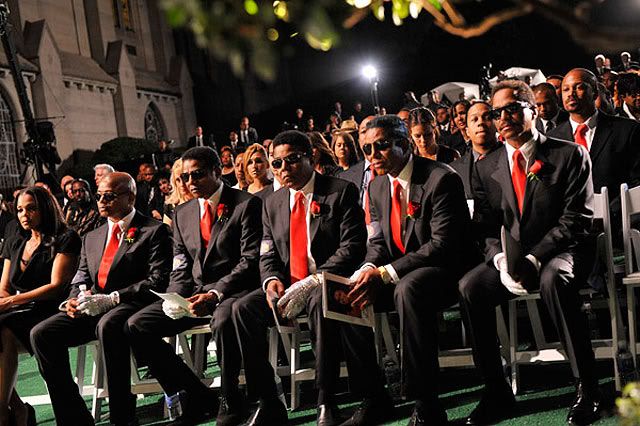 You can see the brothers wear the gloves both right and left.

Você pode ver os irmãos vestir as luvas para a direita e esquerda.

At the memorial they have 2 gloves on the right, 3 on the left, at the burial they have 3 gloves on the right and 2 on the left.

No memorial que têm 2 luvas à direita, 3 na esquerda, no enterro têm 3 luvas à direita e 2 na esquerda.

Makes you wonder...

Faz você pensar ...
This is It, here we have a nice still from the movie:

Isto é, temos aqui um belo ainda do filme: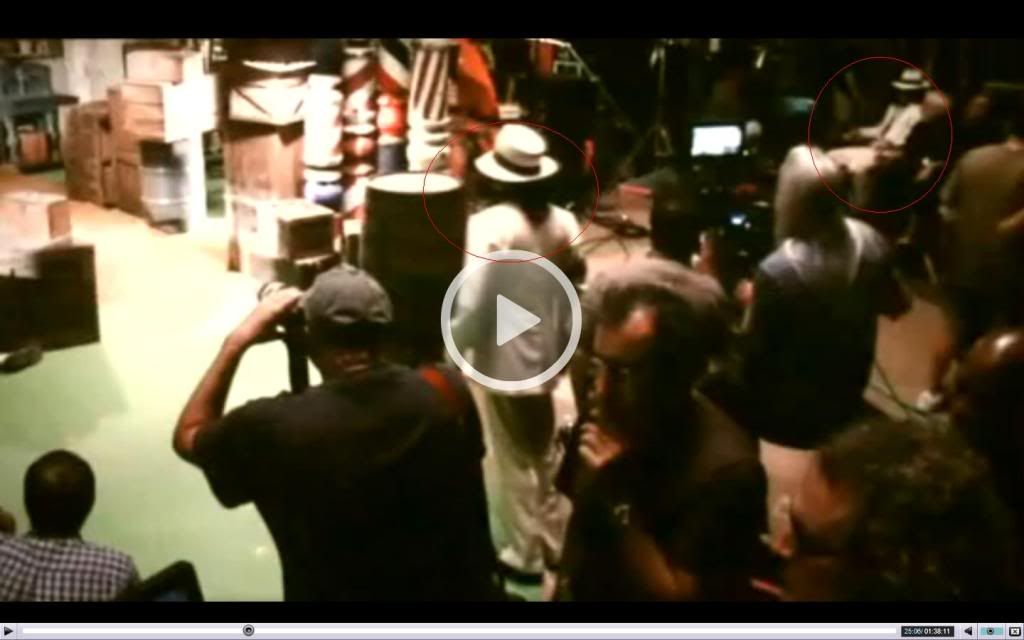 Now who is that?

Agora, quem é esse?

Hatman?

Hatman?

I don't think so, but we have some nice info on Hatman later in the post ;)

Eu não penso assim, mas temos algumas informações sobre Hatman agradável tarde no post;)
Some comparisations
Alguns comparisations
2 different ears:

2 orelhas diferentes: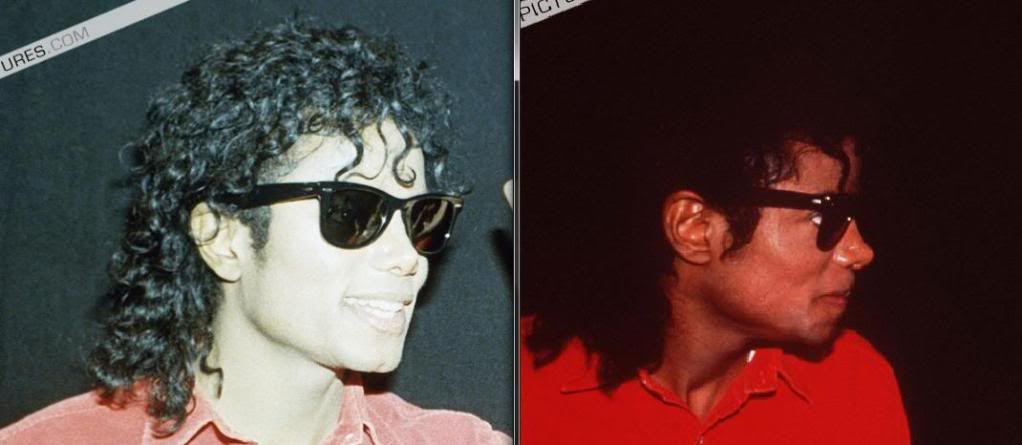 And even though we tried hard, it was not possible to match the chins:

E apesar de esforçado, não foi possível fazer corresponder o queixo: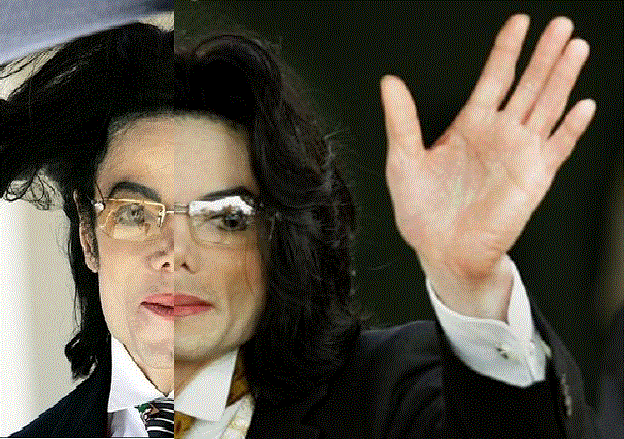 An EXACT match on the noses of BAD-MJ and Captain EO-MJ, but the rest of the face is no match:

Uma correspondência exata sobre o nariz do BAD-MJ e EO Capitão-MJ, mas o resto do rosto não é páreo: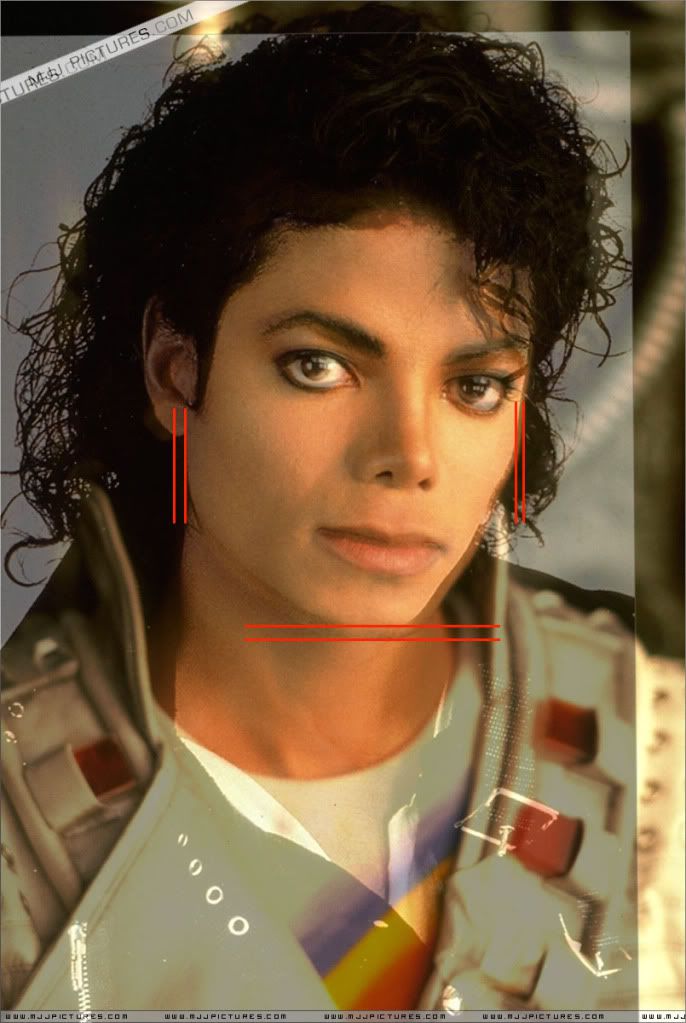 Now think of what there was said about the graves a the grand mausoleum.

Agora pense o que havia dito sobre os túmulos um mausoléu The Grand.

It's pretty plausible that the Jacksons indeed bought the 13 graves at Forest Lawn.

É bastante plausível que os Jacksons realmente comprou a 13 sepulturas em Forest Lawn.

Why?

Por quê?

Let's count:

Vamos contar:
1.

1.

Joe

Joe
2.

2.

Katherine

Katherine
3.

3.

Rebbie

Rebbie
4.

4.

Jackie

Jackie
5.

5.

Tito

Tito
6.

6.

Jermaine

Jermaine
7.

7.

La Toya

La Toya
8.

8.

Marlon

Marlon
9.

9.

Brandon

Brandon
10.

10.

Michael

Michael
11.

11.

Mike, Michael's twin brother

Mike, o irmão gêmeo Michael
12.

12.

Randy

Randy
13.

13.

Janet

Janet
Maybe they have reburied Brandon there, could explain why Katherine was emotional and she and Joe didn't attend the after party.

Talvez eles tenham enterrado Brandon lá, poderia explicar por Katherine era emocional e ela e Joe não compareceram a festa.

It could also explain why we were not allowed to see more then we saw on tv.

Poderia também explicar porque não foram autorizados a ver mais do que vimos na TV.
An intersting few words from Liz Taylor too in The Telegraph on June 27, 2009

Um interessante algumas palavras de Liz Taylor também no The Telegraph em 27 de junho de 2009



One day Michael suggested that he might drop by.

Um dia, Michael sugeriu que ele poderia cair por.

Elizabeth said fine.

Elizabeth disse multa.

He said: "May I bring my chimpanzee?"

Ele disse: "Posso trazer meu chimpanzé?"

Elizabeth said, "Sure. I love animals."

Elizabeth disse: "Claro. Eu amo animais".

Michael showed up holding hands with the chimp, Bubbles.

Michael apareceu de mãos dadas com o chimpanzé, Bubbles.


"We have been steadfast ever since," Elizabeth said.

"Temos sido constantes desde então", disse Elizabeth.


"Do you see much of Michael?"

"Você vê muito do Michael?"


"More of him than people realise – more than I realise," she said.

"Mais dele do que as pessoas percebam - mais do que eu realizo", disse ela.
fonte souza-mjhoaxdeath-themovietheory.blogspot.com/
0 Comments: